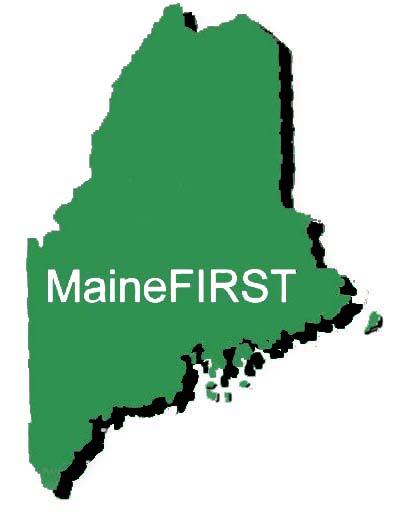 FIRST Robotics in Maine
2015 Pine Tree District
Competition Event Info
www.pinetreedistrict.org

March 12-14, 2015
Androscoggin Bank Colisée
Lewiston, Maine
Open to the Public
Admission is Free
Pine Tree District Event on Facebook: https://www.facebook.com/
MEFirstRegional?ref=hl
MaineFIRST on Facebook:
https://www.facebook.com/MaineFIRST
FIRST Robotics in Maine
No MaineFIRST Robotics team can accomplish what it accomplishes without the help of dedicated students, parents, friends, professional volunteers, corporate sponsors, school officials, community members, legislators...yes, even the Governor! Thank you to all who have contributed in any way to MaineFIRST teams.
Help support the Maine FIRST Robotics Team in your area. Find out how. Write to loriarsenault@maine.rr.com
The MaineFIRST Coalition and website exist to support and celebrate FIRST Robotics in Maine.
Maine has some great opportunities for kids to play hard at science and technology. FIRST Robotics is just that kind of opportunity, high school students working side by side with professionals in education and industry, developing skills and relationships that will last a lifetime. Help spread the word about FIRST, For Inspiration and Recognition of Science and Technology.
2015 Pine Tree District
Competition Event Info
www.pinetreedistrict.org

March 12-14, 2015
Androscoggin Bank Colisée
Lewiston, Maine
Open to the Public
Admission is Free
---
The 2015 FIRST Robotics Competition Kickoff Event for Maine FRC teams will be held on Saturday, January 3, 2015. Streamed live from Manchester, NH, the Maine event is again hosted by the University of Southern Maine, sponsored by USM's College of Arts, Humanities, and Social Sciences; the College of Science, Technology, and Health; and Lewiston Auburn College. The live stream will also be available on NASA Television.
Thank you USM for helping to support our teams!
Maine's FIRST Robotics
Team Information - All Years
Oldest teams listed first
Teams, please send your most recent team photo to loriarsenault@maine.rr.com)
Team ID Number: 58
Team Name: Fairchild Semiconductor & South Portland High School
Location: South Portland, ME USA
Team Motto: The Riot Crew
Robot Name: Krügelfang
Rookie Year: 1996
How Many Students Participate?: 18
Team Website: http://www.riotcrew.org

Events and Awards
EVENTS
2015 UNH Durham - Whittemore Center Arena (3/20/2015 - 2/22/2015)
2015 NE District - Pine Tree Event (3/12/2015 - 3/14/2015)
2014 UNH District Event (3/6/2014 - 3/7/2014)
2014 Pine Tree District Event (4/4/2014 - 4/5/2014)
2013 BAE Systems Granite State Regional (2/28/2013 - 3/2/2013)
2013 Pine Tree Regional (3/4/2013 - 3/6/2013)
2012 BAE Granite State Regional (3/1/2012 - 3/3/2012)
2012 FIRST Championship
2011 BAE Granite State Regional (3/3/2011 - 3/5/2011)
2010 BAE Granite State Regional (3/4/2010 - 3/6/2010}
2009 BAE Granite State Regional (2/26/2009 - 2/28/2009)
2008 BAE Systems Granite State Regional (2/28/2008 - 3/1/2008)
2007 BAE SYSTEMS Granite State Regional (3/1/2007 - 3/3/2007)
2007 FIRST Championship (4/12/2007 - 4/14/2007)
2006 BAE SYSTEMS Granite State Regional (3/2/2006 - 3/4/2006)
2005 BAE SYSTEMS Granite State Regional (3/3/2005 - 3/5/2005)
2004 BAE SYSTEMS Granite State Regional (3/4/2004 - 3/6/2004)
2004 The Championship Event (4/15/2004 - 4/17/2004)
2003 BAE SYSTEMS Granite State Regional (3/6/2003 - 3/8/2003)
2002 UTC New England Regional (4/4/2002 - 4/6/2002)
2001 UTC/New England Regional (3/1/2001 - 3/3/2001)
2001 National Championship (4/5/2001 - 4/7/2001)
2000 NE (partial data available)
1999 NE (partial data available)
1998 NH (partial data available)
1997 NH (partial data available)
1996 NH (partial data available)

AWARDS
2012 NH Creativity Award sponsored by Xerox
2012 NH Regional Champion
2012 NH Woodie Flowers Finalist Award
2010 NH Imagery Award in honor of Jack Kamen
2009 NH Johnson & Johnson Gracious Professionalism Award
2008 NH Regional Finalist
2008 NH General Motors Industrial Design Award
2007 NH Judges' Award
2006 NH Xerox Creativity
2005 NH Regional Finalist
2005 NH Website Award
2003 NH Regional Champion
2001 CT Finalist
2000 NE Best Offensive Round
1998 NE Best Offensive Round
1996 NE Rookie All-Star Award
Team ID Number: 133
Team Name: TEM INC. & BONNY EAGLE HIGH SCHOOL
Location: Standish, ME USA
Team Motto: "SOARING WITH EAGLES"
Robot Name: BERT
Rookie Year: 1997
How Many Students Participate?: 25
Percent female participants: 25-30%
Team Website: https://www.bert133.org



Events and Awards

EVENTS
2015 UNH Durham - Whittemore Center Arena (3/20/2015 - 2/22/2015)
2015 NE District - Pine Tree Event (3/12/2015 - 3/14/2015)
2014 Pine Tree District Event (4/4/2014 - 4/5/2014)
2014 Granite State District Event (2/28/2014 - 3/1/2014)
2013 BAE Systems Granite State Regional (2/28/2013 - 3/2/2013)
2013 Pine Tree Regional (3/4/2013 - 3/6/2013)
2012 BAE Granite State Regional (3/1/2012 - 3/3/2012)
2011 BAE Granite State Regional (3/3/2011 - 3/5/2011)
2010 BAE Granite State Regional (3/4/2010 - 3/6/2010)
2009 BAE Granite State Regional (2/26/2009 - 2/28/2009)
2008 BAE Systems Granite State Regional (2/28/2008 - 3/1/2008)
2007 BAE SYSTEMS Granite State Regional (3/1/2007 - 3/3/2007)
2006 BAE SYSTEMS Granite State Regional (3/2/2006 - 3/4/2006)
2006 The Championship Event (4/27/2006 - 4/29/2006)
2005 BAE SYSTEMS Granite State Regional (3/3/2005 - 3/5/2005)
2004 BAE SYSTEMS Granite State Regional (3/4/2004 - 3/6/2004)
2003 BAE SYSTEMS Granite State Regional (3/6/2003 - 3/8/2003)
2002 UTC New England Regional (4/4/2002 - 4/6/2002)
2002 The Championship Event (4/25/2002 - 4/27/2002)
2001 J&J Mid-Atlantic Regional (3/15/2001 - 3/17/2001)
2001 National Championship (4/5/2001 - 4/7/2001)
2000 NJ (partial data available)
2000 N1 (partial data available)
1999 NJ (partial data available)
1998 N1 (partial data available)
1998 NH (partial data available)
1997 NH (partial data available)

AWARDS
2014 NH Team Spirit Award
2013 NH Woodie Flowers Finalist Award
2012 NH Gracious Professionalism Award sponsored by Johnson & Johnson
2011 NH Motorola Quality Award sponsored by Motorola
2010 NH Website Excellence Award
2009 NH Underwriters Laboratories Industrial Safety Award
2009 NH Kleiner Perkins Caulfield & Byers Entrepreneurship Award
2008 NH Woodie Flowers Award to Michael Matthews
2008 NH Xerox Creativity Award
2007 NH UL Industrial Safety Award
2006 NH Regional Champion
2006 NH RadioShack Innovation in Control Award
2005 NH Autodesk Visualization Award
2005 NH GM Industrial Design
2004 NH J&J Sportsmanship
2001 NJ Judge's Award
2001 NJ Regional Champion
1999 NJ Honeywell Leadership in Control Award
1998 NE Most Photogenic Award
1997 NE Featherweight in the Finals
1997 NE Special Judge's Award
Team ID Number: 172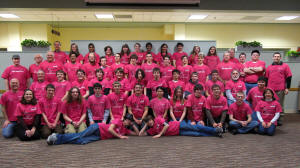 Team Name: IDEXX Laboratories/Lanco Assembly Systems/Fairchild Semiconductor & Falmouth High School & Gorham High School
Location: Gorham/Falmouth, ME USA
Team Motto: "Think Pink"
Robot Name: FalGor
Rookie Year: 1996
How Many Students Participate?: 32
Team Website: http://www.NorthernForce.org



Events and Awards

EVENTS
2015 Boston (3/26/2015 - 3/28/2015)
2015 NE District - Pine Tree Event (3/12/2015 - 3/14/2015)
2014 Pine Tree District Event (4/4/2014 - 4/5/2014)
2014 Granite State District Event (2/28/2014 - 3/1/2014)
2013 BAE Systems Granite State Regional (2/28/2013 - 3/2/2013)
2013 FIRST Championship
2013 Pine Tree Regional (3/4/2013 - 3/6/2013)
2012 BAE Granite State Regional (3/1/2012 - 3/3/2012)
2011 BAE Granite State Regional (3/3/2011 - 3/5/2011)
2010 WPI Regional (3/4/2010 - 3/6/2010)
2009 BAE Granite State Regional (2/26/2009 - 2/28/2009)
2008 BAE Systems Granite State Regional (2/28/2008 - 3/1/2008)
2007 BAE SYSTEMS Granite State Regional (3/1/2007 - 3/3/2007)
2006 BAE SYSTEMS Granite State Regional (3/2/2006 - 3/4/2006)
2005 BAE SYSTEMS Granite State Regional (3/3/2005 - 3/5/2005)
2004 BAE SYSTEMS Granite State Regional (3/4/2004 - 3/6/2004)
2003 BAE SYSTEMS Granite State Regional (3/6/2003 - 3/8/2003)
2000 NE (partial data available)
1999 NE (partial data available)
1998 NH (partial data available)
1997 NH (partial data available)
1996 NH (partial data available)

AWARDS
2014 NH Quality Award
2013 Engineering Inspiration Award
2013 Regional Finalists
2010 WPI Chrysler Team Spirit Award
2009 NH Chrysler Team Spirit
2008 NH DaimlerChrysler Team Spirit
2007 NH Chrysler Team Spirit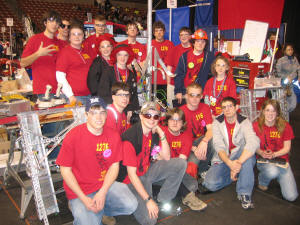 Team ID Number: 1276
Team Name: Midcoast School of Technology
Location: Rockland, ME USA
Team Motto: Hajime
Robot Name: Fushidara-Kou
Rookie Year: 2004
How Many Students Participate?: 21
Team Website: http://www.mcstrobotics.org

Events and Awards
EVENTS
2009 BAE Granite State Regional (2/26/2009 - 2/28/2009)
2008 BAE Systems Granite State Regional (2/28/2008 - 3/1/2008)
2007 BAE SYSTEMS Granite State Regional (3/1/2007 - 3/3/2007)
2006 BAE SYSTEMS Granite State Regional (3/2/2006 - 3/4/2006)
2006 The Championship Event (4/27/2006 - 4/29/2006)
2005 BAE SYSTEMS Granite State Regional (3/3/2005 - 3/5/2005)
2004 BAE SYSTEMS Granite State Regional (3/4/2004 - 3/6/2004)

AWARDS
2006 NH Regional Champion
Team ID Number: 1995
Team Name: University of Maine & United Technologies Center Region #4
Team Nick Name:
School: United Technologies Center Region #4
Main Sponsor: University of Maine
Location: Bangor, ME
Rookie Year: 2007
Students: 10
Mentors: 10
Robot name:

Awntonamoose


Website: www.team1995.com
Events and Awards
EVENTS
2010 WPI Regional (3/4/2010 - 3/6/2010)
2009 BAE Granite State Regional (2/26/2009 - 2/28/2009)
2008 Boston Regional (3/27/2008 - 3/29/2008)
2007 UTC Connecticut Regional (3/15/2007 - 3/17/2007)
AWARDS
2010 WPI Excellence in Design Award sponsored by Autodesk
2010 WPI Industrial Safety Award sponsored by Underwriters Laboratories
2008 UL Industrial Safety Award
Team Nickname: Infinite Loop
Team Motto: Innoventers of the Future!
School: Messalonskee High School
Main Sponsor: Wrabacon, Inc / Maine State Credit Union / Sheridan Construction / Fairchild Semiconductor & Messalonskee High School
Location: Oakland, ME
Rookie Year: 2008
Students: 30
Mentors: 4
Robot name:
Website www.team2648.com
Events and Awards
EVENTS
2015 UNH Durham - Whittemore Center Arena (3/20/2015 - 2/22/2015)
2015 NE District - Pine Tree Event (3/12/2015 - 3/14/2015)
2014 WPI District Event (3/13/2014 - 3/14/2014)
2014 Pine Tree District Event (4/4/2014 - 4/5/2014)
2014 Granite State District Event (2/28/2014 - 3/1/2014)
2013 Pine Tree Regional (4/4/2013 to 4/6/2013)
2013 WPI Regional (3/7/2013 to 3/9/2013)
2012 WPI Regional (March 8-10, 2012)
2011 Boston Regional, Boston, MA (April 7 - 9, 2011)
2011 WPI Regional (March 10 - 12, 2011
2010 FIRST Championship: Georgia Dome, Atlanta, GA (April 15-17, 2010)
2010 Boston Regional (3/25/2010-3/27/2010)
2009 Boston Regional (3/5/2009-3/5/2009)
2009 Battlecry 10 @ WPI 3rd place (5/5/2009-5/9/2009)
2009 Mayhem in Merrimac, 4th place (6/6/2009)
2009 Bear Brawl 3rd place (9/27/2009)
2009 BAE Granite State Regional (2/26/2009 - 2/28/2009)
2008 BAE Systems Granite State Regional (2/28/2008 - 3/1/2008)

AWARDS
2014 Granite State - Engineering Inspiration Award
2012 WPI Engineering Inspiration Award
2011 Boston Regional Finalist
2011 Cooperation Award
2011 Team Spirit Award sponsored by Chrysler (Boston Regional)
2011 Team Spirit Award sponsored by Chrysler (WPI Regional)
2010 FIRST Dean's List Finalist Award
2010 Regional Finalist
2008 NH Rookie Inspiration Award
Team ID Number: 3074
Team Name:

Pratt & Whitney / Lockheed Martin / Fairchild Semiconductor & The New School


Team Nickname: New School Robotics
School: The New School High School
Main Sponsor:

BAE Systems


Location: Kennebunk, Maine
Rookie Year: 2009
Students: 10
Mentors: 7
Robot name: Hank (2009)
Website:
Events and Awards
EVENTS
2011 BAE Granite State Regional (3/3/2011 - 3/5/2011)
2010 BAE Granite State Regional (3/4/2010 - 3/6/2010)
2009 BAE Granite State Regional (2/26/2009 - 2/28/2009)
AWARDS
2010 NH Judges Award
2009 NH Rookie All Star Award
2009 NH Highest Rookie Seed Award
Team ID Number: 3451
Team Name:

NASA/Fairchild Semiconductor & Sanford Regional Technical Center


Team Nickname: Simply Robotics
School: Sanford Regional Technical Center
Main Sponsor:

NASA and Fairchild Semiconductor


Location: Sanford, Maine
Rookie Year: 2011
Students:
Mentors:
Team Motto: Keep it Simple

Events and Awards
EVENTS
2015 UNH Durham - Whittemore Center Arena (3/20/2015 - 2/22/2015)
2015 NE District - Pine Tree Event (3/12/2015 - 3/14/2015)
2014 UNH District Event (3/6/2014 - 3/7/2014)
2014 Pine Tree District Event (4/4/2014 - 4/5/2014)
2013 Pine Tree Regional (4/4/2013 - 4/6/2013)
2012 BAE Granite State Regional (3/1/2012 - 3/3/2012)
2011 BAE Granite State Regional (3/3/2011 - 3/5/2011)

Team ID Number: 3597
Team Name:

National Defense Education Program/JCPenney & RW Traip Academy


Team Nickname: Robo-Rangers
School: Kittery, Maine
Main Sponsor:

National Defense Education Program & JCPenney


Location: Sanford, Maine
Rookie Year: 2011
Students:
Mentors:
Team Motto: What you put in is What you get out
Website: http://rangers.rwtraip.kittery.k12.me.us/~robotics/



Events and Awards
EVENTS
2015 NE District - Pine Tree Event (3/12/2015 - 3/14/2015)
2014 UNH District Event (3/6/2014 - 3/7/2014)
2014 Pine Tree District Event (4/4/2014 - 4/5/2014)
2013 Pine Tree Regional (4/4/2013 - 4/6/2013)
2012 BAE Granite State Regional (3/1/2012 - 3/3/2012)
2011 Boston Regional, Boston, MA (April 7 - 9, 2011)

Team ID Number: 3609
Team Name:

JCPenney & Boys & Girls Clubs of Southern Maine


Team Nickname: Duct Tape Dragons
School: South Portland, Maine
Main Sponsor:

JCPenney & Boys & Girls Clubs of Southern Maine


Location: South Portland, Maine
Rookie Year: 2011
Students:
Mentors:
Team Motto: Keep Positive
Website: www.bgcmaine.org

Events and Awards
EVENTS
2014 Pine Tree District Event (4/4/2014 - 4/5/2014)
2014 Granite State District Event (2/28/2014 - 3/1/2014)
2013 BAE Systems Granite State Regional (2/28/2013 - 3/2/2013)
2013 Pine Tree Regional (3/4/2013 - 3/6/2013)
2012 BAE Granite State Regional (3/1/2012 - 3/3/2012)
2011 Boston Regional, Boston, MA (April 7 - 9, 2011)
AWARDS
2013 NH Imagery Award in honor of Jack Kamen
2013 NH Regional Winners
Team ID Number: 3930
Team Name:

NASA/JCPenney & Fairchild Semiconductor and Spruce Mountain High School


Team Nickname: SMART Spruce Mountain Area Robotics Team
School: Spruce Mountain High School
Main Sponsor:

NASA, JC Penney and Fairchild Semiconductor


Location: Jay, Maine
Rookie Year: 2012
Students: 28
Mentors: 4 school mentors, 5 community mentors
Team Motto: Theorize, Reflect, Innovate, Generate, Gravitate, Execute, Realize
Website: https://sites.google.com/a/rsu73.com/smart/
Facebook page: http://www.facebook.com/#!/SMHSrobotics

Events and Awards
EVENTS
2015 UNH Durham - Whittemore Center Arena (3/20/2015 - 2/22/2015)
2015 NE District - Pine Tree Event (3/12/2015 - 3/14/2015)
2014 WPI District Event (3/13/2014 - 3/14/2014)
2014 Pine Tree District Event (4/4/2014 - 4/5/2014)
2013 Pine Tree Regional (4/4/2013 to 4/6/2013)
2013 WPI Regional (3/7/2013 to 3/9/2013)
2012 Merramack Madness
2012 World Championships, St. Louis
2012 WPI Regional (March 8-10, 2012)
AWARDS
2012 WPI Rookie-All-Star Award Winner
Team ID Number: 4041
Team Name: Fairchild Semiconductor/Gold Bridge Partners, Inc./JCPenney & MSAD 11
Team Nickname: Iron Tigers
School: MSAD 11
Main Sponsor:

Fairchild Semiconductor, Gold Bridge Partners, Inc and JC Penney


Location: Gardner, Maine
Rookie Year: 2012
Students: 4
Mentors: 3
Team Motto:
Website: https://www.facebook.com/FIRST.Team.4041

Events and Awards
EVENTS
2015 NE District - Pine Tree Event (3/12/2015 - 3/14/2015)
2015 Reading, Mass (3/6/2015 - 3/8/2015)
2014 WPI District Event (3/13/2014 - 3/14/2014)
2014 Pine Tree District Event (4/4/2014 - 4/5/2014)
2013 Pine Tree Regional (4/4/2013 to 4/6/2013)
2012 WPI Regional (March 8-10, 2012)
Team ID Number: 4042
Team Name:

JCPenney & Erskine Academy


Team Nickname: Eagles
School: Erskine Academy
Main Sponsor:

JCPenney


Location: South China, Maine
Rookie Year: 2012
Students:
Mentors:
Team Motto:
Website:

Events and Awards
EVENTS
2015 NE District - Pine Tree Event (3/12/2015 - 3/14/2015)
2015 Granite State (2/26/2015 - 2/28/2015)
2014 Pine Tree District Event (4/4/2014 - 4/5/2014)
2014 UNH District Event (3/6/2014 - 3/7/2014)
2013 Pine Tree Regional (4/4/2013 to 4/6/2013)
2012 WPI Regional (March 8-10, 2012)

Team ID Number: 4473
Team Name: Robotics Institute of Maine, REM and Hall-Dale High School
Team Location: Farmingdale, Maine

Rookie Season: 2013

Team Nickname: Delta Prime
Website: www.deltaprimerobotics.com

Events and Awards
EVENTS
2015 UNH Durham - Whittemore Center Arena (3/20/2015 - 2/22/2015)
2015 NE District - Pine Tree Event (3/12/2015 - 3/14/2015)
2014 WPI District Event (3/13/2014 - 3/14/2014)
2014 Pine Tree District Event (4/4/2014 - 4/5/2014)
2014 Granite State District Event (2/28/2014 - 3/1/2014)
2013 Pine Tree Regional (4/4/2013 to 4/6/2013)
AWARDS
2014 WPI District Event, Winning Alliance
2013 Pine Tree Regional - Highest Rookie Seed
2013 Mainely Spirit - Runner-up Alliance

Team ID Number: 4555
Team Name: NASA & Somerset Career & Technical Center

Team Location: Skowhegan, ME

Rookie Season: 2013

Team Nickname: Sprocketology

Events and Awards
EVENTS
2015 UNH Durham - Whittemore Center Arena (3/20/2015 - 2/22/2015)
2015 NE District - Pine Tree Event (3/12/2015 - 3/14/2015)
2014 Pine Tree District Event (4/4/2014 - 4/5/2014)
2014 UNH District Event (3/6/2014 - 3/7/2014)
2013 Pine Tree Regional (4/4/2013 to 4/6/2013)

Team ID Number: 4564
Team Name: JCPenny & Brewer High School

Team Location: Brewer, ME

Rookie Season: 2013

Team Nickname: BREWER

Events and Awards
EVENTS
2015 UNH Durham - Whittemore Center Arena (3/20/2015 - 2/22/2015)
2015 NE District - Pine Tree Event (3/12/2015 - 3/14/2015)
2014 WPI District Event (3/13/2014 - 3/14/2014)
2014 Pine Tree District Event (4/4/2014 - 4/5/2014)
2013 Pine Tree Regional (4/4/2013 to 4/6/2013)

Team ID Number: 4793
Team Name: JCPenney & Old Orchard Beach High School

Team Location: Old Orchard Beach, ME

Rookie Season: 2013

Team Nickname: gobotics

Team ID Number: 4906
Team Name: Mid-Maine Technical Center

Team Location: Waterville, ME

Rookie Season: 2014

Team Nickname: The Collective

Team ID Number: 5122
Team Name: OTHS Robotics Club

Team Location: Old Town, ME

Rookie Season: 2014

Team Nickname:



Team ID Number: 5265
Team Name: Cheverus High School

Team Location: Portland, ME

Rookie Season: 2014

Team Nickname: Cheverus

Team ID Number: 5286
Team Name: Thornton Academy

Team Location: Saco, ME

Rookie Season: 2014

Team Nickname: Trojonix

Team ID Number: 5471
Team Name: Easterbrooks Software & Winthrop High School

Team Location: Winthrop, ME USA

Rookie Season: 2015

Team Nickname: Ramblers

Events and Awards
EVENTS
2015 NE District - Pine Tree Event (3/12/2015 - 3/14/2015)

Team ID Number: 5506
Team Name: Searsport District High School

Team Location: Searsport, ME USA

Rookie Season: 2015

Team Nickname: The Viking Landers

Events and Awards
EVENTS
2015 NE District - Pine Tree Event (3/12/2015 - 3/14/2015)

Team ID Number: 5633
Team Name:

Hyde School

Team Location: Bath, ME

Rookie Season: 2015

Team Nickname: Hyde Phoenix Robotix
Facebook Page: www.facebook.com/frcteam5633

Events and Awards
EVENTS
2015 Granite State
2015 Northeaastern

Team ID Number: 5687
Team Name:

Baxter Team

Team Location: Portland, ME

Rookie Season: 2015

Team Nickname:

Greater Portland Robotics Club



Events and Awards

EVENTS
2015 Pine Tree
2015 Reading, Maine


Past games:
2014 Game - Aerial AssistSM

2012 Game - Rebound Rumble
http://www.usfirst.org/roboticsprograms/frc/2012-rebound-rumble
- 2012 Congratulations to our teams!

NASA Kickoff Broadcast - Many thanks to the sponsors of the January 4th Maine Kickoff Event at USM, Team 58, Team 133, Texas Instruments, Fairchild Semiconductor, FIRST, and the University of Southern Maine College of Science, Technology, and Health, Office of the Provost, Office of the President, and Division of Student Success.

2014 Maine Teams - Results
There were 9 Maine teams qualified for competing with their robot at the District Championships.

The teams were:
58 ranked 12th
133 ranked 13th
2648 ranked 16th
4473 ranked 24th
5122 ranked 25th
4564 ranked 29th
3930 ranked 30th
4555 ranked 36th
172 ranked 46th

Teams 5286 had won the Rookie All Star at UNH and was qualified to compete without their robot. Team 4555 was unable to attend the District Championship event.

Maine Teams which qualified for
world championships

As a result of the District Championship competition, 3 Maine teams qualified for the World Championship. Those teams are:

Team 2648 (Messalonskee) by winning Chairman's award - will attend
Team 5122 (Oldtown) by points - will attend
Team 58 (South Portland) by points - will attend

After the 24 teams which qualified by awards or points, the next 3 teams by points were Maine teams. All 3 Maine teams were offered the chance to go to Worlds's based on higher ranked teams declining. The teams and there decisions to go or not are:

Team 3930 (Spruce Mountain) - will not attend

Team 133 (BERT) - will attend

Team 172 (Falgor) - will not attend

As with the New England District events the Maine teams continued to perform well.

Awards

Chairman's Award Team 2648

Finalist - Team 5122

Industrial Safety Award - Team 3930

Quality Award - Team 58

Imagery Award - Team 3930


Competition

Teams selected to alliances were

5122

172 (alliance captain)

58

Team 58's alliance lost after 3 heartbreaking rounds. The last round was lost by 2 points with a ball about to be scored!

Team 172 also lost in the quarter finals after taking the 2nd round from the # 1 alliance which included Team 5122.

Team 5122 on the #1 alliance made it to the finals. Unfortunately Team 195, the top ranked team, had problems during the final rounds. Despite valiant efforts by Team 5122 and 558 the alliance lost in 2 rounds in the finals.

Maine teams making the elimination rounds
increased to 6 teams in Week 3.

Week 3 had teams 2648, 3930, 4473, 4564, 4906, and 5122 make the elimination rounds. Teams 3930 and 4906 lost in the quarter finals. Team 4564 lost in the semi finals. Once again Maine teams were on both sides in the finals! After a hard fought 3 match final, the 4473 alliance prevailed over the 2648 and 5122 alliance to win the WPI competition.

Week 2 had teams 58, 3451, 3597, and 4555 in the elimination rounds Team 3451 lost in the quarter finals. Team 58 and 4555 won the finals over the 3597 alliance

Week 1 had teams 133, 172, 2648 and 4473 in the elimination rounds. Team 2648 lost in the quarter finals and Teams 133, 172, and 4473 lost in the semi finals.

Awards

Again Maine teams did very well in awards, winning 5 awards.

Week 3, Team 2648 won the Chairman's award and thereby qualify for the Boston District Championship. Team 3930 won the Engineering Inspiration Award and qualify for the District Championship without their robot to compete for the Engineering Inspiration Award. Team 3930 also won the Industrial Safety Award. Team 4564 won the Gracious Professionalism Award. Team 4906 won the Rookie Inspiration Award.

Week 2, two of our rookie teams took home awards. Team 5286 won the Rookie All Star award and Team 5265 won the Rookie Inspiration award. Team 58 won the spirit award.

Week 1, Team 2648 won the Engineering Inspiration, Team 133 won the Team Spirit, and Team 172 won the Motorola Quality award. Team 5286 qualified to compete without their robot at the District Championship.

-Stephen Martin